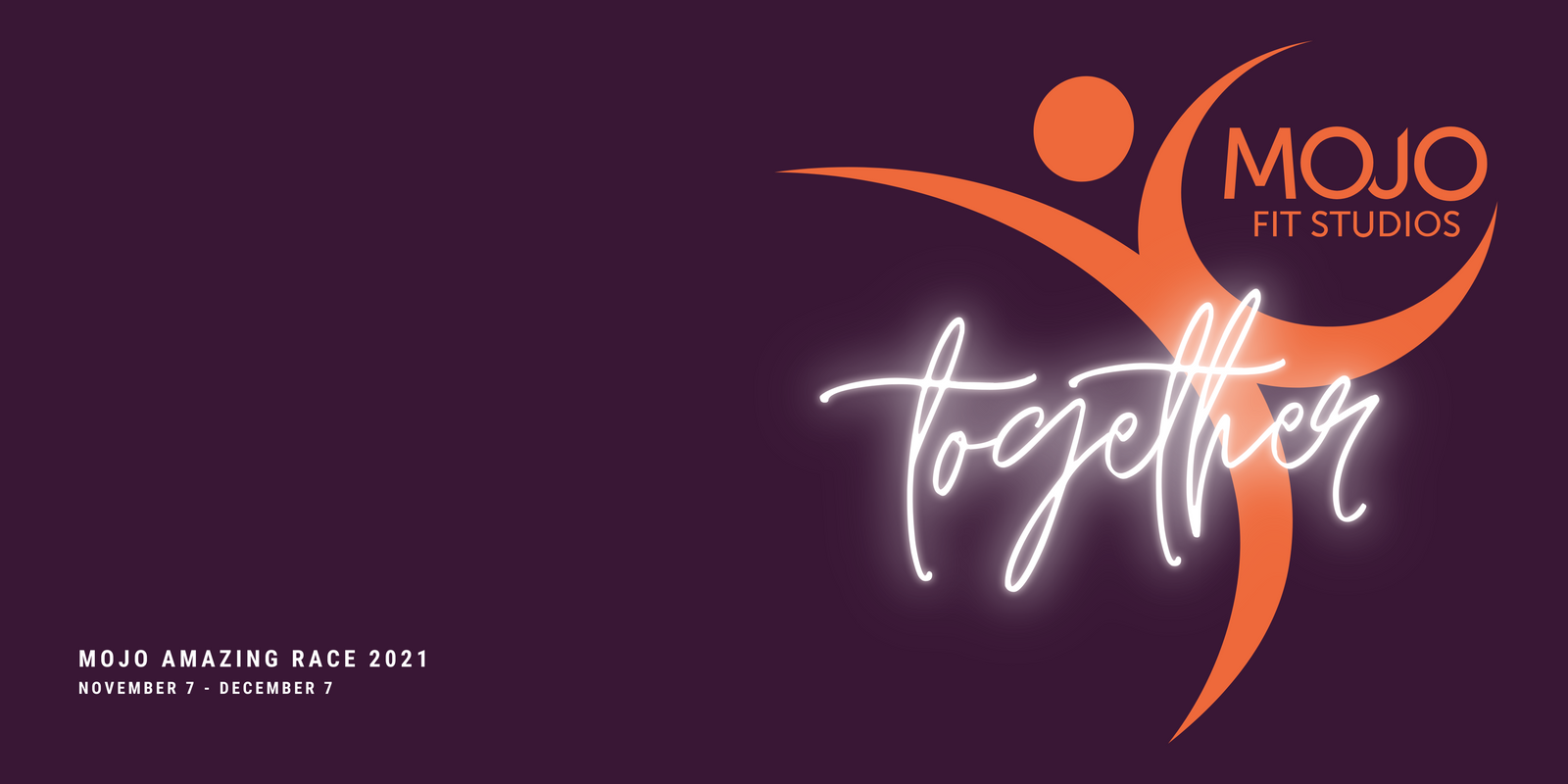 JOIN THE AMAZING RACE "TOGETHER 2021" CHALLENGE!
RULES
Teams consist of 2 people: (if you do not have a team member but would like to participate, let us know in the link below and we can help pair you) Teachers are allowed to participate with a client partner so you can ask them as well.
Both Team Members must have a Mojo Membership. If you are not an Autopay member you can purchase a 1 Month Unlimited AMAZING RACE membership for the discounted rate of $120 when you register for the race (discount code will be sent).
If you are new to Mojo Fit Studios you can use your $25 for 3 weeks intro offer for the race.
EACH Team Member will purchase a $15 entry fee. 100% of the entry fee will go to the Prize buckets. Wouldn't that be nice before the holidays?!?!
You must come up with a team name.
You can not switch team members partway through the challenge.
The challenge BEGINS the week of Mojo's birthday on Sunday, November 7th and ENDS on Tuesday December 7th. Please make sure at least ONE of your team members is available at 6:30PM on December 7th for the final challenge.
Your team must submit challenge completion on the Mojo Amazing Race webpage. When you have completed a task and THEY will mark your completion on our AMAZING RACE BOARD in the studio.
At least ONE team member should have a Facebook or Instagram account and add themselves to the Mojo Fit Yogi Tribe group on Facebook.
Race categories will focus on a "Together 2021" Theme.
WHY SIGN UP?
It will give you incentive and inspiration get back into a routine.
It will be super fun (and funny at times)!
It will bring great energy to our studio space
It will HELP US build our MOJO community with people YOU love!
It will challenge you to grow and get out of your box (ever so slightly, we PROMISE)
It's like we're paying YOU to be healthy! ALL teams who successfully complete the challenge will receive a $20 credit to their account.
YOU COULD WIN! Besides pride & happiness, the WINNING TEAM(S) will each receive a Visa cash cards!
- 1st place | Visa Cash Card (amount based on the number of teams) Pot Prize
- 2nd place | Visa Cash Card (amount based on the number of teams) 2nd Place Prize
- 3rd Place | Mojo Gift Basket
PLUS
EVERYONE ON A TEAM THAT COMPLETES OUR CHALLENGE WILL RECEIVE $20 CREDIT TO THEIR ACCOUNT. So, you really can't lose!
HOW TO GET REGISTERED!
STEP 1: Get your team name registered below.
STEP 2: Each team member submits a $15 entry fee. (100% of the entry fee goes to the 1st and 2nd prize bucket)
Pay your entry fee: An invoice emailed to you within 48 hours of registration.
Challenge begins November 7th, 2021 and ends December 7th, 2021.
NEED A TEAM MEMBER? Some of our most competitive teams were paired by the studio. Just submit your name to > Help me find a team member!